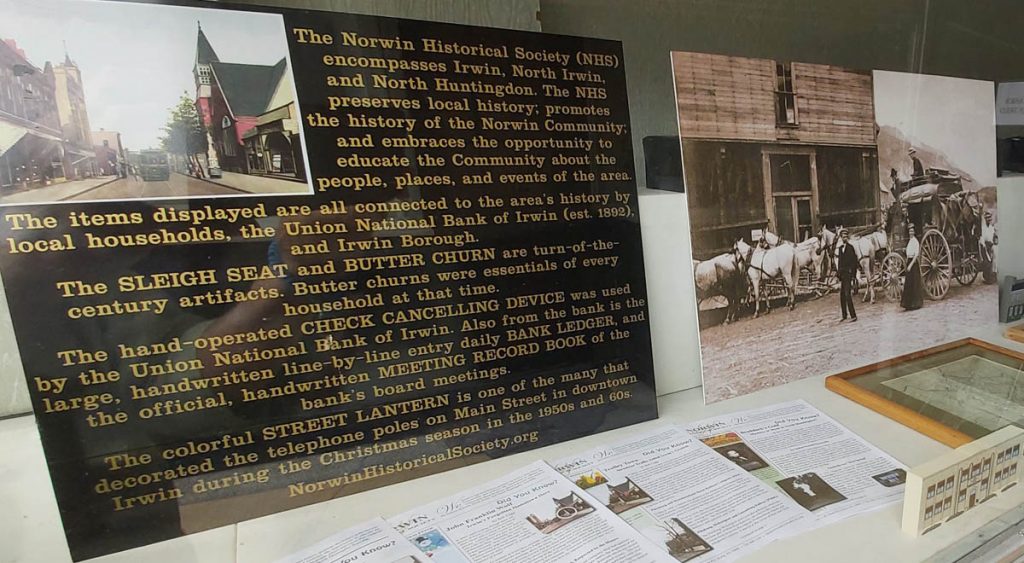 It's been dubbed "The Biggest Little Town in Pennsylvania." Irwin, one of Westmoreland County's western-most towns, North Irwin, and nearby North Huntingdon, together form the Norwin School District, serving hundreds of students every year.
This Norwin area is also home to the Norwin Historical Society (NHS), founded in the fall of 1994. For over 25 years, the NHS has served the community through preserving and promoting the history of the area, and educating the community about the people, places, and events which comprise their local history.
The work and events accomplished every year by the Historical Society would not be possible without dedicated volunteers, and in today's blog we are honored to feature two outstanding individuals: Bob Cupp and Sharon Lunn.
Bob Cupp has been volunteering at the Norwin Historical Society for the past 16 years.
"I've gotten to do a little bit of everything. From writing quarterly newsletter articles, to helping folks from the public with research inquiries, to giving talks, fundraising, working local events, and even serving on the Board of Directors… I've gotten a taste of everything!"
Bob's journey with the NHS was inspired after attending a Historical Society program at the Norwin Library.
"I remember seeing the event advertised in the local newspaper. Carl Huszar, the long-time President of NHS, encouraged me to get involved after I had attended that program. Since joining, my favorite activity has definitely been writing the quarterly newsletter articles. There are so many stories to be told about the Norwin area's rich history, and the positive public feedback has been very rewarding."
It almost goes without saying that the COVID-19 Pandemic presented the Historical Society with its greatest challenges yet.
"However! Even with businesses closed, social distancing, limited meetings and fundraising opportunities, we still managed to move our History Center to a new location at 304 Main Street. Using primarily volunteer labor, extensive renovations were also completed in the new space."
For the Norwin Historical Society, the greatest needs are for even more volunteers to keep making these incredible projects a reality.
"We need an influx of both younger volunteers with new ideas to carry on our mission, as well as Norwin senior citizens who are willing to share the knowledge they've accumulated with the generations to come. Having both the young and the experienced makes for a great team."
And for Bob, being part of that great team is what it's all about.
"It's an honor and a pleasure to work with such a remarkable and unselfish group of volunteers. Our team has such a wide variety of knowledge, talents, and skills. It's just amazing."
Sharon Lunn's involvement with the Norwin Historical Society began ten years ago when her house was featured on the Historical Society's Holiday House Tour.
"Being on the Holiday House Tour was a true honor and fantastic experience. I was so thrilled to join NHS after being on that tour."
Sharon has since served on the House Tour committee, been elected as a board member, and assisted with the annual Antiques on Main event.
"Along with many other dedicated volunteers, I have helped with moving our center, and then the necessary painting, organizing, and decorating. I've also been present to staff the center during events held in downtown Irwin."
Sharon has fond memories of her first annual Historical Society Picnic, where she made the commitment to becoming an active member, and the relationships that have developed since that time.
"I felt welcomed immediately by the group. In particular, I was very encouraged by Geralyn DeFelice, Carl Huszar, and Dave Sinclair. With all of these wonderful volunteer colleagues, the most rewarding project I've worked on was taking on a totally new way of holding the annual Holiday House Tour. The 2020 tour was made virtual due to the pandemic. Going virtual was challenging since not many of us have prior experience with such a process. We definitely have some things we'd change if we had to do it like this again in the future, but overall, I feel it was a great production that was ultimately profitable for the group. We certainly learned a lot!"
Sharon encourages anyone who is interested to volunteer their time and talents with the Norwin Historical Society.
"We truly have some excellent people here and we have a lot of fun. All the while, we are striving to preserve our local history and educate people about the past that has shaped our present. I am grateful to have found such a wonderful group of friends at the Norwin Historical Society."
For more information about volunteering with the Norwin Historical Society, you can email their Board of Directors Secretary, Geralyn DeFelice at g.defelice@comcast.net. You can also give the Board President, Carl Huszar, a call at 412-759-9771.