There is no lack of volunteering options in Westmoreland County. But what if you want a one-stop shop? A place where no matter your interests, you can assuredly find something that speaks to your talents and passions.
Look no further than the Westmoreland Historical Society and Historic Hanna's Town, located just 10 minutes away from Downtown Greensburg.
For this volunteer spotlight, we had the honor of talking to both a long-time volunteer, Martin Keck, as well as two new faces to the Westmoreland Historical Society: Karen and Matt Banks.
***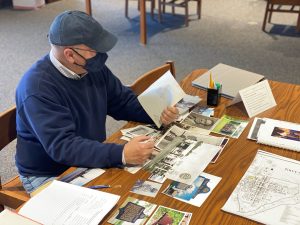 If you've visited the Historical Society over the past 11 years, you will absolutely have seen Martin Keck. He has become a keystone volunteer at the society, beginning his volunteer career there back when the Historical Society was located at West Otterman Street in Greensburg.
"I had signed up to attend a genealogy program. During that program, they made the announcement that the Historical Society was looking for volunteers to help move the entire organization to a new location at Sand Hill Road in Greensburg. After that program, I signed up to help with the move."
Martin's passion for organization and love of history has continued to this day, particularly in his work with the reorganizing and cataloguing of the archive materials.
"In the past, the archives have been organized and catalogued in a number of different methods. Now, using the museum program Past Perfect, all of the archives will be catalogued and searchable in one method. I like working with the archives because when you open an archive box, you usually find an item that is not listed on the inventory outside of the box. That experience always reminds me of the Forrest Gump quote, 'Life is like a box of chocolates. You never know what you're gonna get!'"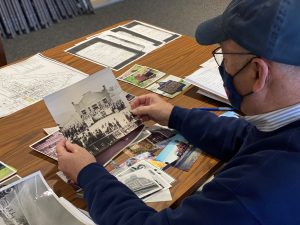 We often hear about the importance of work-life balance, but when volunteering, it's just as important to remember volunteer-life balance!
"My biggest challenge in regards to volunteering was regulating volunteer time and my personal time. I started off by coming to the society four days per week, but that got to be too much as the years went on. Over time, I've reduced my volunteer hours to two days per week. This balance works perfectly for both me and the Historical Society, as I'm still able to do a nice amount of work for them in that time frame."
Martin's example is a great reminder that volunteering does NOT need to become an all-consuming past time, and any amount of time you can donate to your favorite organizations is always appreciated and valued.
"Volunteering at the Westmoreland Historical Society and Historic Hanna's Town is especially rewarding because of the sense of accomplishment in helping others and the community around you. All of this makes you feel better about yourself and your abilities and talents. The Historical Society has projects for everyone. I also help with genealogy research and with the popular Antiques and Collectibles sales every year. You can enjoy your time here no matter what you are doing."
***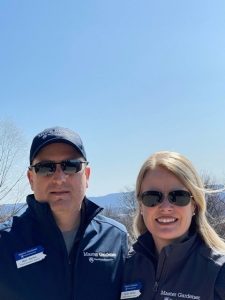 And if Martin's words ring true, there is no better evidence of variety than one of the Westmoreland Historical Society's newest collaborations: the creation of a brand new, historically accurate garden with the Penn State Extension Master Gardeners of Westmoreland County.
Unlike other volunteers at the Westmoreland Historical Society, these Master Gardener volunteers come specifically from the Penn State Extension Master Gardener program of Westmoreland County, as they are trained and certified experts in their fields.
Both Karen and Matt Banks are Master Gardeners, and Karen's work with the Historical Society began about two-and-a-half years ago, working in the 18th-century style Kitchen Garden.
"That experience with the Kitchen Garden allowed me to learn about colonial-era plants: cultivating vegetables, herbs, and medicinals. Recently, I was able to celebrate the Pollinator Palooza event which highlights Pollinator Gardens around Westmoreland County. Historic Hanna's Town has Pollinator Gardens filled with native plants and no-mow zones that encourage pollinators to stay in the area."
A particular highlight for Karen? The visitors and tourists at the Westmoreland Historical Society and Historic Hanna's Town.
"I love seeing the interest of the visitors and their surprise when they learn how easy it is to convert our home lawn spaces to more pollinator-friendly gardens with native plants, as well as the importance of our bees, birds, and other insects."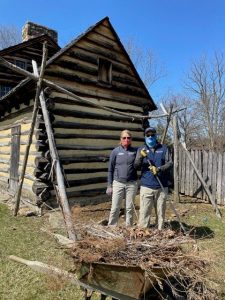 Just last year, Matt became an official Master Gardener, and him and Karen have had the opportunity to work on volunteer projects together.
"As challenging as the pandemic has made face-to-face contact, we managed to create a virtual, geocache-like activity at Hanna's Town for the Annual Monarch Migration through the Penn State Extension."
Now, the Master Gardeners are focusing on the creation of the aforementioned new, historically accurate garden: the Dyer's Garden.
"This new garden will be both interpretative and educational about the daily life of women living on the Pennsylvania frontier during the Revolutionary War era, and the processes they had to go through to create handmade textiles. This demonstration garden will provide an opportunity to discuss the historic uses of both native plants and species of plants introduced from other parts of the world, as well as the production of dyeing fabric. In the near future, this garden will be featured on the guided tours of Historic Hanna's Town."
The Master Gardeners were able to have their first workday of the year just recently, which everyone enjoyed, masks and all!
***
Indoors or outside, productive and rewarding work with both your hands and your mind awaits you at the Westmoreland Historical Society and Historic Hanna's Town.
For more information about volunteering at the Westmoreland Historical Society and Historic Hanna's Town, please contact Pam Curtin, Education and Interpretation Manager, at pam@westmorelandhistory.org or by calling 724-836-1800 x 212.
For information about becoming a Master Gardener and joining the Penn State Extension Master Gardeners of Westmoreland County, please contact Mandy Smith, Master Gardener Coordinator, at mls302@psu.edu or by calling 724-858-4042.