In 2020, students have lost out on sports, socialization, and creative outlets. Many seniors missed their chance at their varsity debut, the dances, their chance to take a bow as a lead. This heartbreaking year continues to steal opportunities away from students, guardians, and teachers alike.
Enter Stage Right.
Tony Marino, the Artistic Director of Stage Right, generously spared some time to have a conversation about the creative and nontraditional ways their theatre company has brought the joy of performing back into students' lives.
Stage Right's company actually has a long history of finding unique spaces and ways to perform.
"We have a proud history, especially early on, of doing shows in strange and unusual places. We used a former nightclub, an abandoned Shop and Save, a machine shop, two former liquor stores, and St. Clair Park! So this move to doing things at Hempfield Park and putting up a big top tent is a kind of nostalgic turn. We love challenges, and we love the adaptability that theatre has. We get to demonstrate that adaptability by doing these things."
Stage Right's next show, Annie, is getting ready for its close up.
"We are about to shoot Annie like a movie with three different casts, and then edit it all together and show it over a streaming service. This is all part of Stage Right's proud history—we take the show where it needs to go, and we make theatre happen!"
Of course, this creativity requires perseverance. Performing outdoors and in front of cameras has brought unique challenges to this very adaptable group.
"The biggest challenge has been all the tech stuff—lights, the WIND! We lost one of our outdoor tents right after Rocky closed (it was destroyed in a wind gust that next Sunday) but it's amazing how the art itself—the actors and musicians—they adapt! They use the space. For example, the main pole tent in the big top was used constantly by the performers in Rocky and in our Work Shop Show with our students. Really, with all of this, the only thing you can't fight is Mother Nature. You can put up a tent, but you can't stop the wind."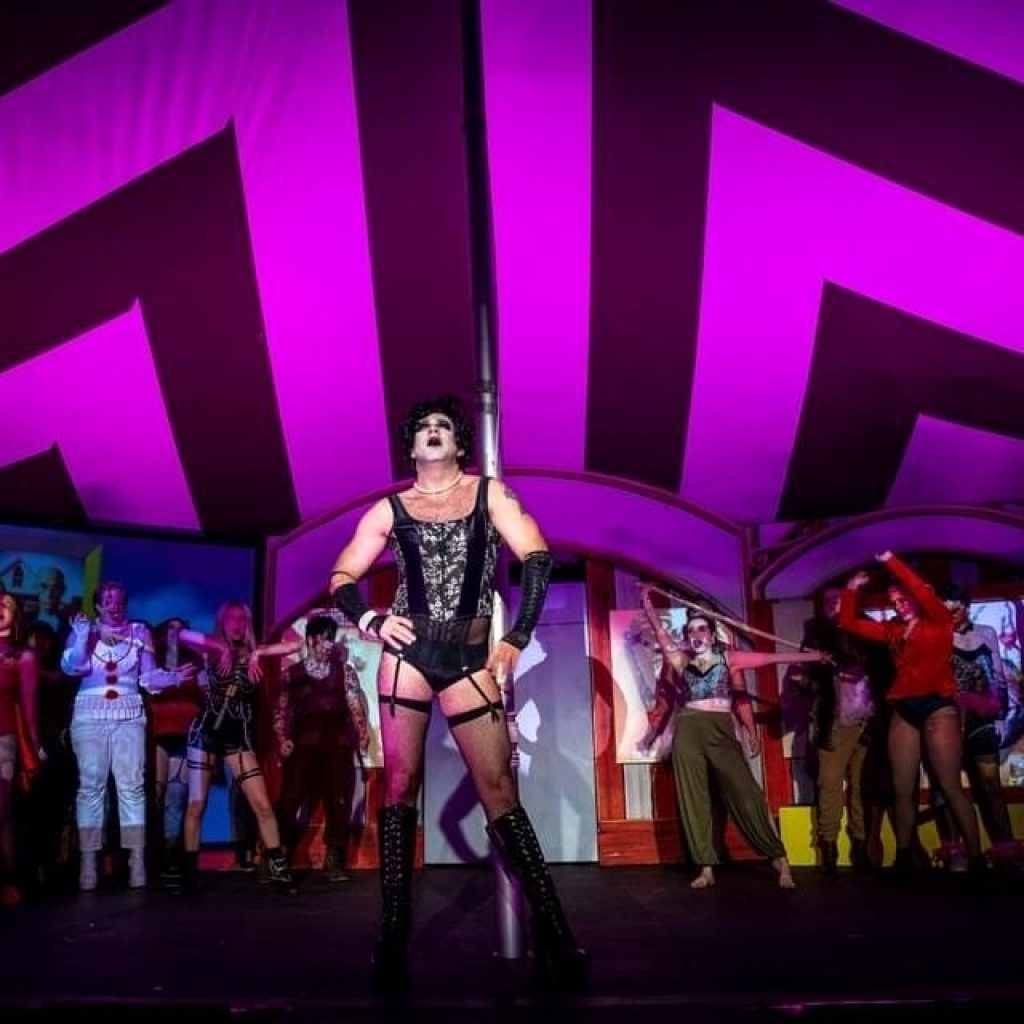 One pleasant surprise all of this outdoor performing has brought to Stage Right is an added layer of beauty to their already spectacular performances.
"The look of Rocky Horror specifically inside that tent was just phenomenal. The feel it gave the entire show was amazing. This summer, doing the camp shows at Hempfield Park, we had great weather. It all created this really lovely, family-get-together vibe. People sat in pods on the lawn and just enjoyed the evening. It was all just beautiful."
Of course, this is all wonderful for the actors and families, but how have members of the public reacted to all of these adaptations? Predictably, people give the different experiences a standing ovation.
"Going the whole way back to Legally Blonde in September, people LOVED the Drive-In experience [Stage Right collaborated in September with Evergreen Drive-In in Mount Pleasant to livestream their performances of Legally Blonde]. I was worried about quality and transferring that live experience to a big screen, but we had great cameras and great technical people guiding us as to how to shoot so it looked good. This process resulted in a fantastic experience. Again, these outdoor and indoor space venues HAVE to take advantage of the good things their space has to offer and minimize the bad. It's all about using the feel of the location to your advantage. We had an amazing Hype-Man at the Drive-In, Dean Baker, and he got the crowd fired up and did a preshow! In the tent for Rocky we made everything into a creepy sideshow/carnival theme which people really got into. Plus, there was beer! Beer helps! At the park, people brought dinners and wine. The key here is that every performance and performance location became an EXPERIENCE for everyone who was there."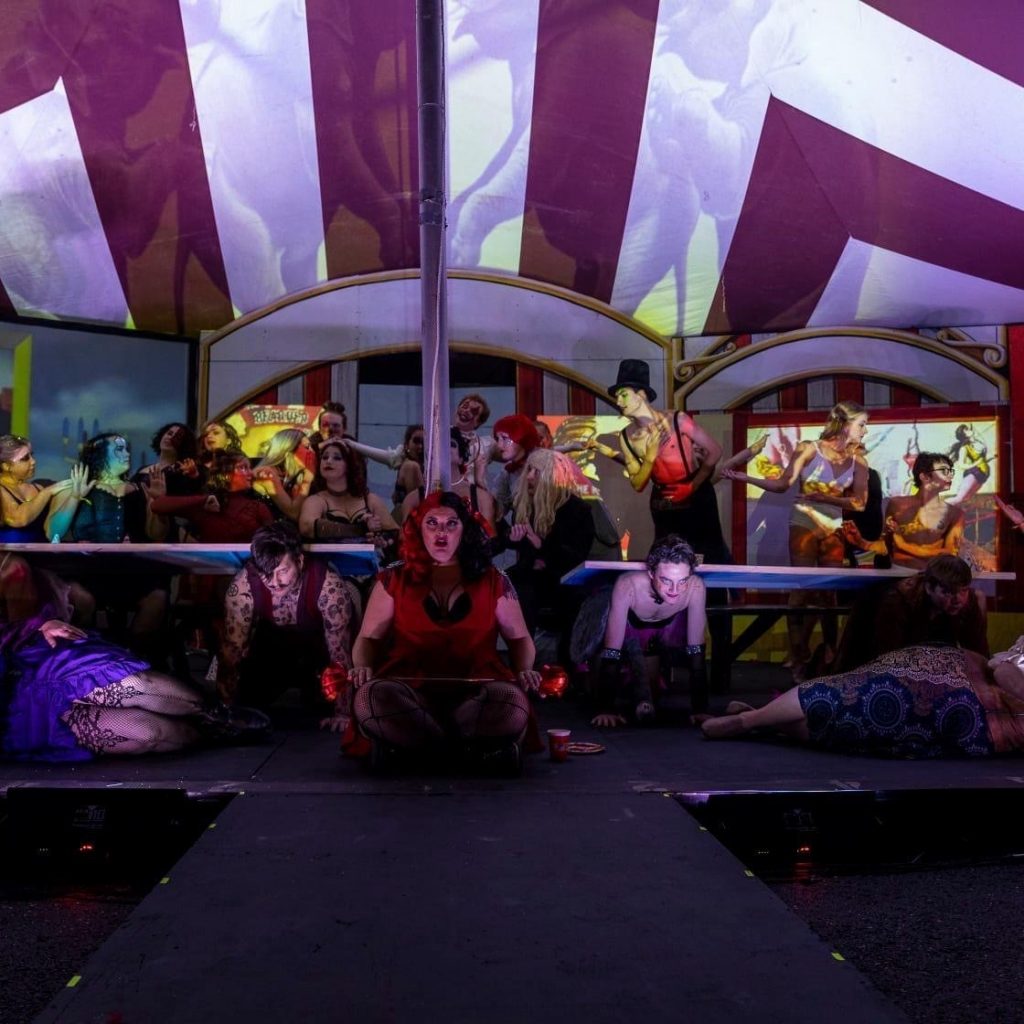 2020 won't be forgotten anytime soon by these performers, fans, and families. For Tony and his Stage Right family, it all comes down to making the best out of every situation.
"You know what all of this is about? Just finding a way to DO IT! And most importantly, doing it all safely and within the established guidelines, but still DOING it. If we can set the example of following all safety guidelines and STILL having a good time, maybe we can influence people to feel better about our current life-situation and actually follow the rules so we can get out of this whole mess faster. But really, it all comes down to following through on safety, creativity, and bringing something good into what is currently a sad situation. The world needs arts organizations to bring that hope and happiness back into people's lives."
Stage Right's next scheduled performance is the classic Annie, which will be available for livestream from the comfort of your own home. Go to https://www.stagerightgreensburg.com/shows for tickets and performance information.