Community theatre is an essential part of any local art scene, and Westmoreland County boasts several talented theatre groups. In this month's volunteer spotlight, we're talking to four standout volunteers from the Greensburg Civic Theatre.
***
Missy Greenberg has been volunteering at Greensburg Civic Theatre for three years now. Her journey with the Civic Theatre began when the organization was in danger of closing for good.
"Teresa Baughman put out a call for volunteers to try to keep the theatre group going. She did a great job of providing the history of the theatre and the importance to the community. My son and I attended an educational session in order to learn about the Greensburg Civic Theatre (GCT) and immediately signed up to be part of their props committee as we saw the potential of what [the Theatre] could be."
Missy's dedication to the props committee continues to be one of her favorite projects with GCT.
"[I love] hunting for props with my son, Marcus. We love the challenge of finding and/or creating unique items that are needed. Some of the more fun items we have found and made are a ship's wheel, a toadstool, a mummy (made from stuffed clothes and drapes) and laboratory equipment. The more obscure the item, the more we enjoy hunting for it!"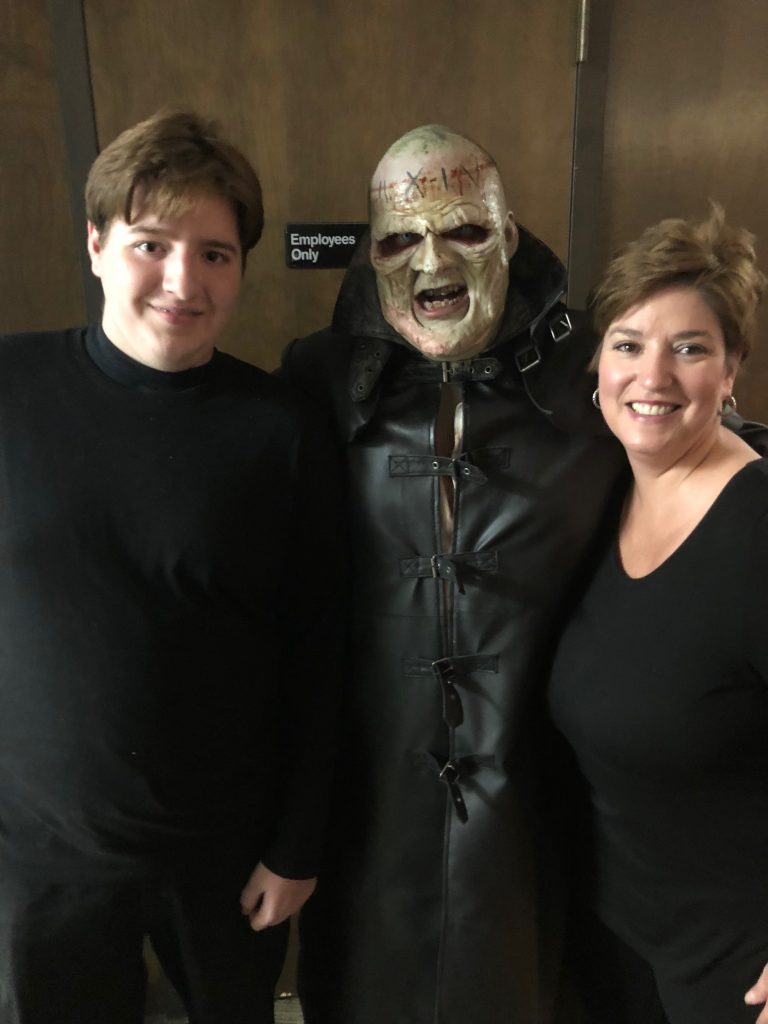 Of course, 2020 has brought challenges to GCT just like every other theatre group around the county.
"We had to postpone our last two shows in the spring, and have had to adjust our casting, rehearsals, and seating for the fall shows. We have an amazing group of people who have done everything they need to do in order to put on a show."
The first show put on by GCT since the pandemic began was the classic play, "Almost, Maine." The theatre group offered both in-person and live-streaming options for the performances.
"[Live-streaming] was a learning process. It is our goal to keep the GCT name out there and provide quality productions for our fans. We want to do what we can to keep live, local theatre active within our community."
Despite these challenges, Missy encourages anyone interested in joining a local theatre to give Greensburg Civic Theatre a try.
"I can't speak highly enough of the volunteers who contribute so much time and energy to each and every production. Everyone is a volunteer in this group, but some folks bring years of experience and incredible talent. Because of that experience, even if you don't know a thing about putting on a stage production (like me!), you will be able to learn as you go because the people you work with are so great."
For Missy, the casts and crews of the shows she has participated in over the past few years make everything worth it.
"For some it has been their first production, others have been in the business for 40 years, but the commitment to the art by all is amazing. Greensburg Civic Theatre has been one of the most rewarding experiences of my life, and I am looking forward to many more years to come."
***
A Greensburg Civic Theatre Veteran, Margaret Ryan has been with the organization for twenty years.
"I've done theatre since high school and auditioned for GCT when I wanted to get back into theatre as an adult. I was cast in a few musical productions for GCT and wanted to be more involved, so I expressed interest in joining the board of directors. I was elected to the board in 2001. Over the years I have served as president, vice president, and secretary."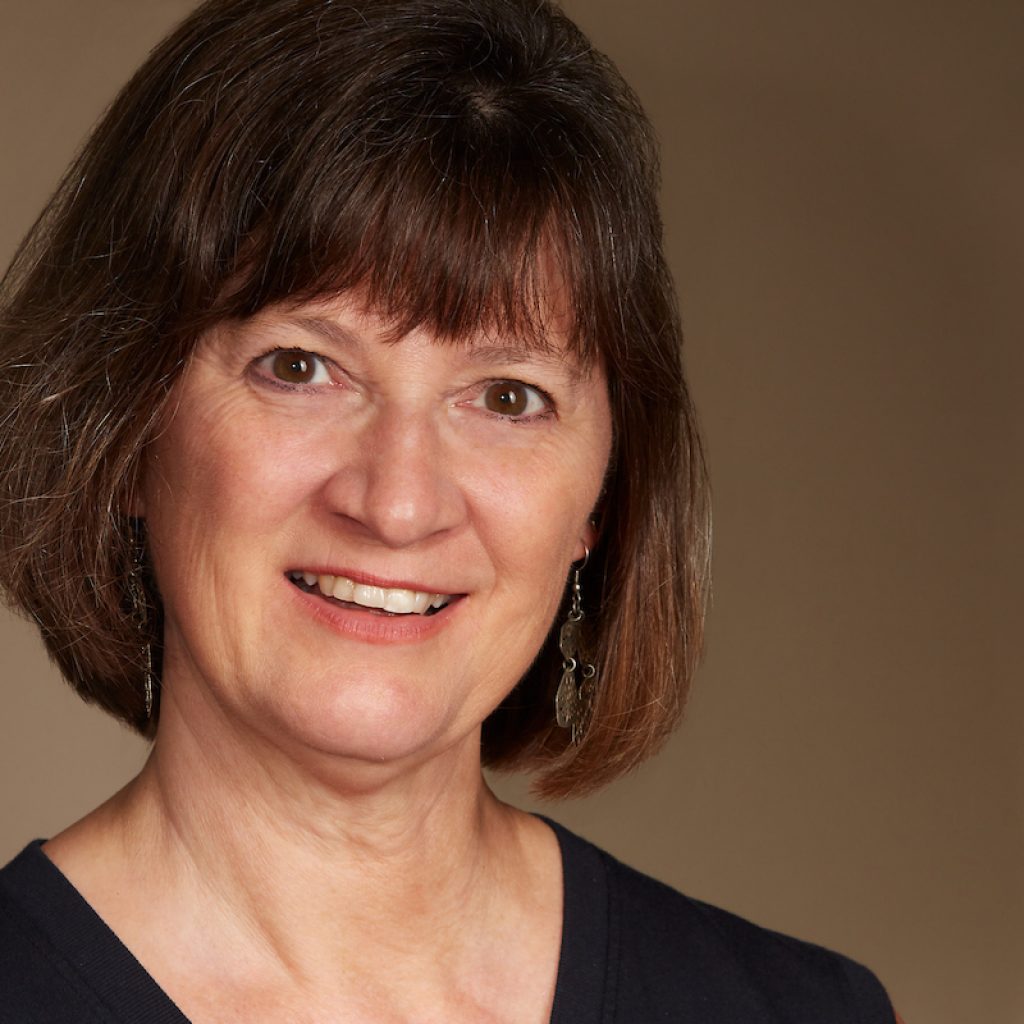 Twenty years is a long time period to reflect on, and although pinning down an all-time favorite memory was challenging for Margaret, she narrowed recent favorite experiences down to two specific shows.
"Two of my favorites were 'I Love You, You're Perfect, Now Change" in 2013 and 'Jekyll and Hyde' in 2018. I costumed both of these shows and was in them too. 'I Love You' is such a fun little show with great songs and vignettes all about love through life. 'Jekyll and Hyde' was just amazing. I loved the music, and the costumes were challenging. Costuming can be very time consuming depending on the show. Some shows require lots of help with costumes, sets, lighting, sound, etc. It's most rewarding when people jump in to help and come up with creative solutions to make everything work."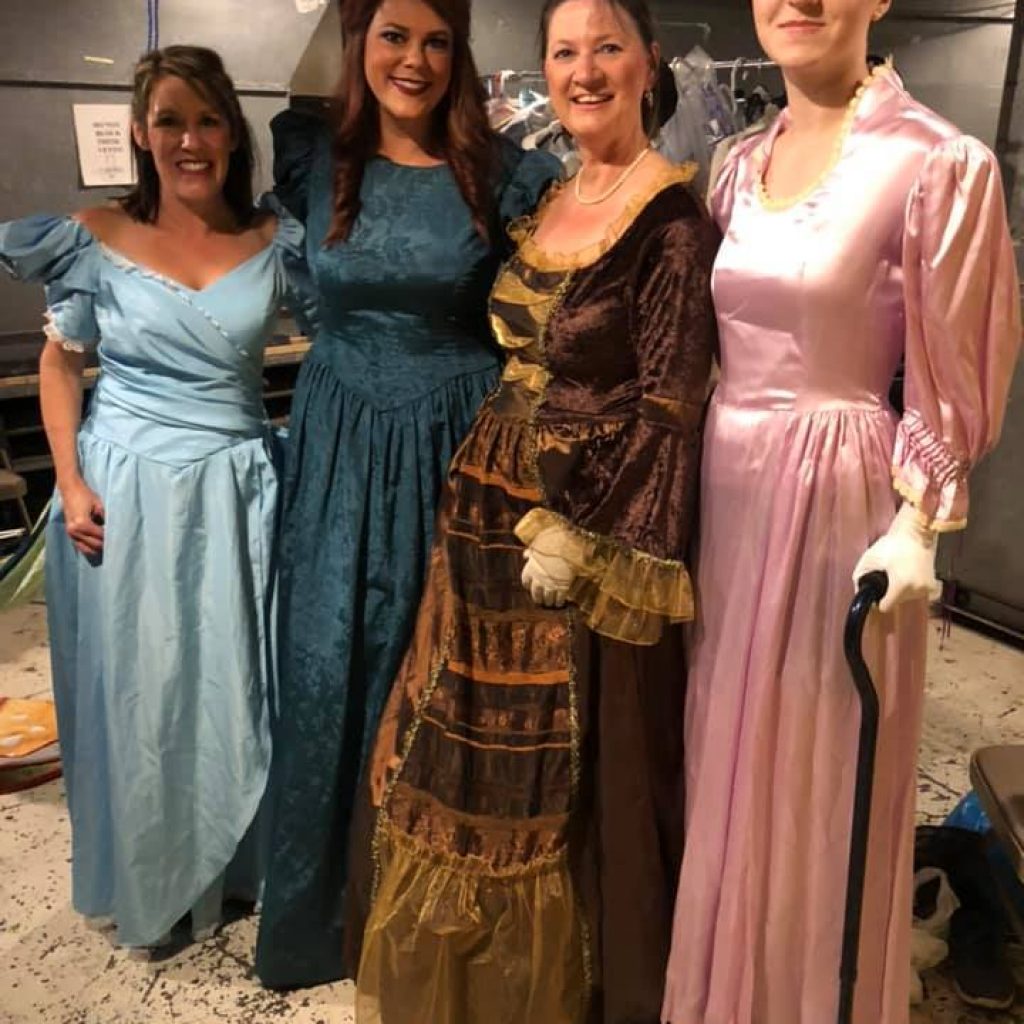 Like Missy Greenberg shared earlier, in 2018, GCT almost had to close down due to falling revenues and not enough volunteers. Margaret reflects that even more than a depleted bank account, there were too few people doing triple and quadruple duties.
"But, we made an appeal to the community and people stepped up to get us back on both financial footing and a solid volunteer base."
Margaret hopes that many more community members decide to join in that volunteer base.
"Greensburg Civic Theatre is a great way to develop skills in so many different areas, from marketing and social media, to performing, to learning constructions skills, organizing, planning, and learning to operate lights and sound. It can get stressful and be a big time commitment, but getting a show performance-ready and seeing it through its run is so personally rewarding. And, of course, you get to meet a wonderful community of people who become friends."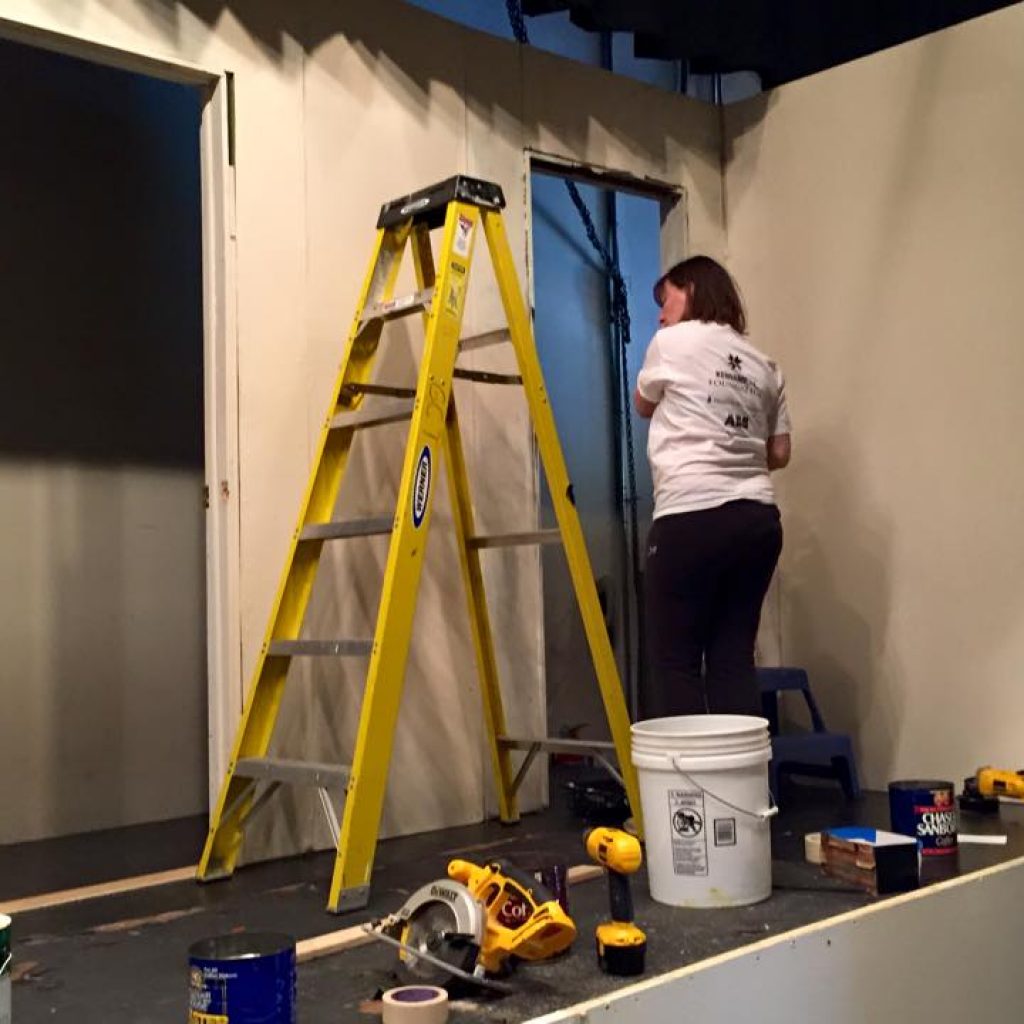 Finally, Margaret would love to see more community members enjoy the GCT live-stream shows until seating capacity is restored in theatres again.
"The show looked and sounded great on live-stream. Besides volunteering, this method is a great way for the public to help get us through this difficult time."
***
Vince D'Angelo is no stranger to theatre in Westmoreland County. He has been with Greensburg Civic Theatre on and off for the past forty years, spending most of that time as a board member, and serving one term as the board's president.
"I first worked with GCT when I auditioned and was cast in a show. I became acquainted with then board member Angelo Sembiante who recruited me to join the board. I then directed 'Blithe Spirit,' and have directed many shows for the organization since that first experience, as well as stage managing and working on various projects. At one point, I moved away for eight years, during which I worked at Walt Disney World. I moved back to the area a little over two years ago and immediately contacted Teresa Baughman about getting back to work."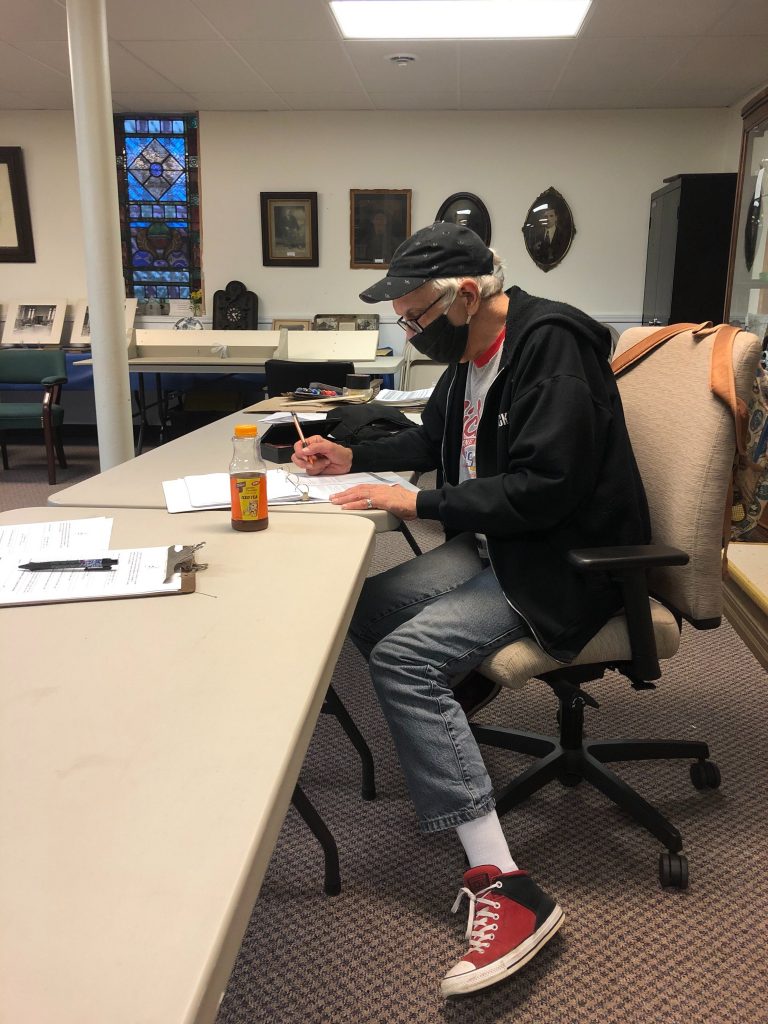 Since Vince's return, he has found much to be joyful about with the Civic Theatre.
"The most rewarding part [of GCT] has always been the many wonderful people in the organization who have shown me so much respect and encouragement. It has been difficult to continue to try to provide theatre during the current pandemic. I am proud that we have taken every precaution and managed to present a complete production during this time when so many theatres remain dark."
As to why members of the public should volunteer with the Greensburg Civic Theatre, Vince, who has directed over 150 shows throughout his career, puts it bluntly.
"Theatre can be a lot of work… but it is also VERY rewarding and a lot of fun!"
***
Teresa Baughman, the current Director of Operations and Programming at the Palace Theatre, has been connected with the Greensburg Civic Theatre for 30 years.
"My first show was in November 1990 when I had a role in the musical 'A Funny Thing Happened on the Way to the Forum," directed by Vince D'Angelo. I officially joined the Board of Directors in July 1991 and have served continuously since that time."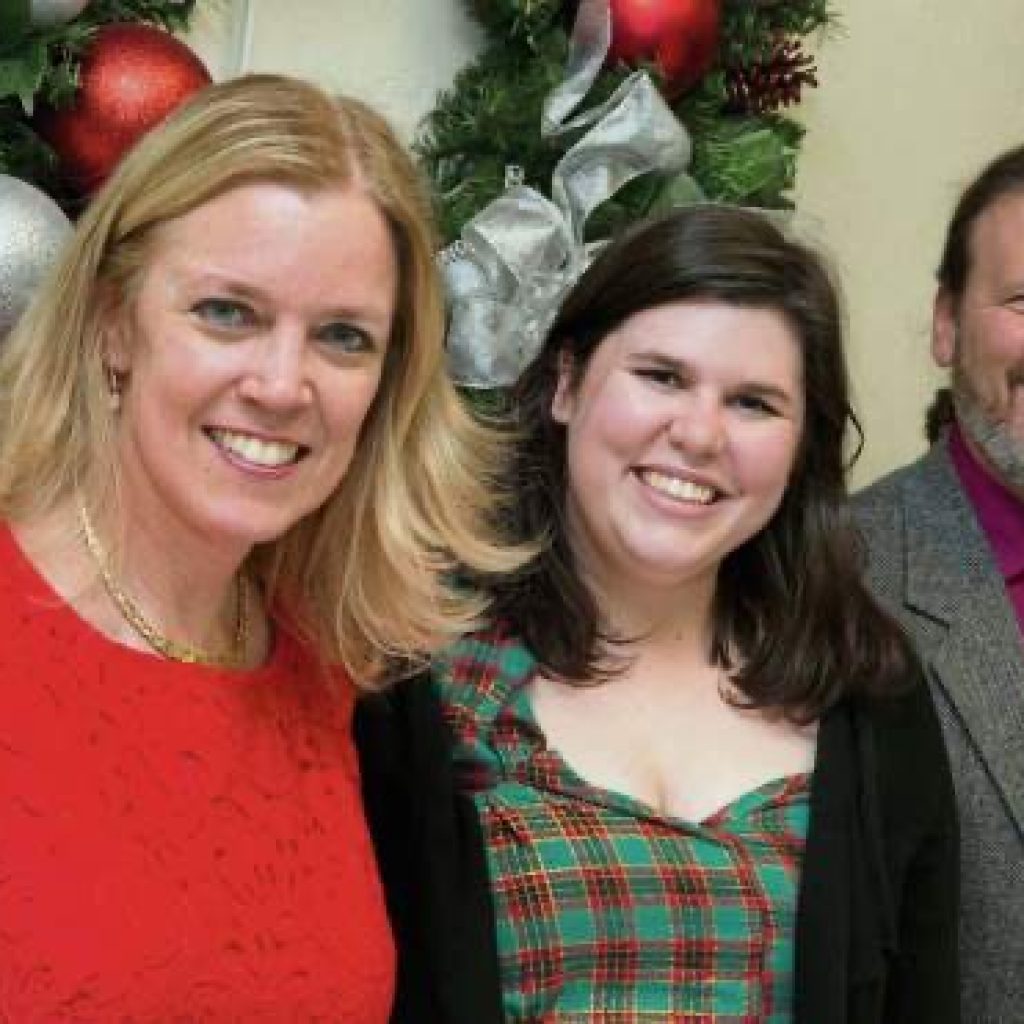 Teresa's love for theatre goes as far back as her third-grade play, and her first major in college: musical theatre.
"I ended up switching to journalism, but my love for theatre never ended! In 1990, my twin sons were two years old and I simply needed something to do outside of nurturing my amazing children. I had done 'Forum' with my Penn Hills High School Alumni Theatre several years prior, so I thought I'd give Greensburg Civic Theatre's production of the show a shot."
This journey Teresa began with GCT in 1990 paved the way for beautiful memories, and even led to her current career with the Palace Theatre.
"When I was serving as GCT President in 1994, we presented 'The King and I' at The Palace Theatre for two nights, the first of about eight musicals we did there. Those were tremendous shows with large casts of community theatre adults and youth, and a live orchestra. It was a great effort by many people to move to a larger venue than we had previously performed in. The standing ovations were so gratifying! That experience led to my becoming acquainted with the then-manager at The Palace, which led to a job offer the following year to work in The Palace Theatre Box Office. And that led to my 25-year career thus far with Westmoreland Cultural Trust, an opportunity for which I'm truly grateful. So yes, my vocation is now in theatre administration, and my hobby is community theatre."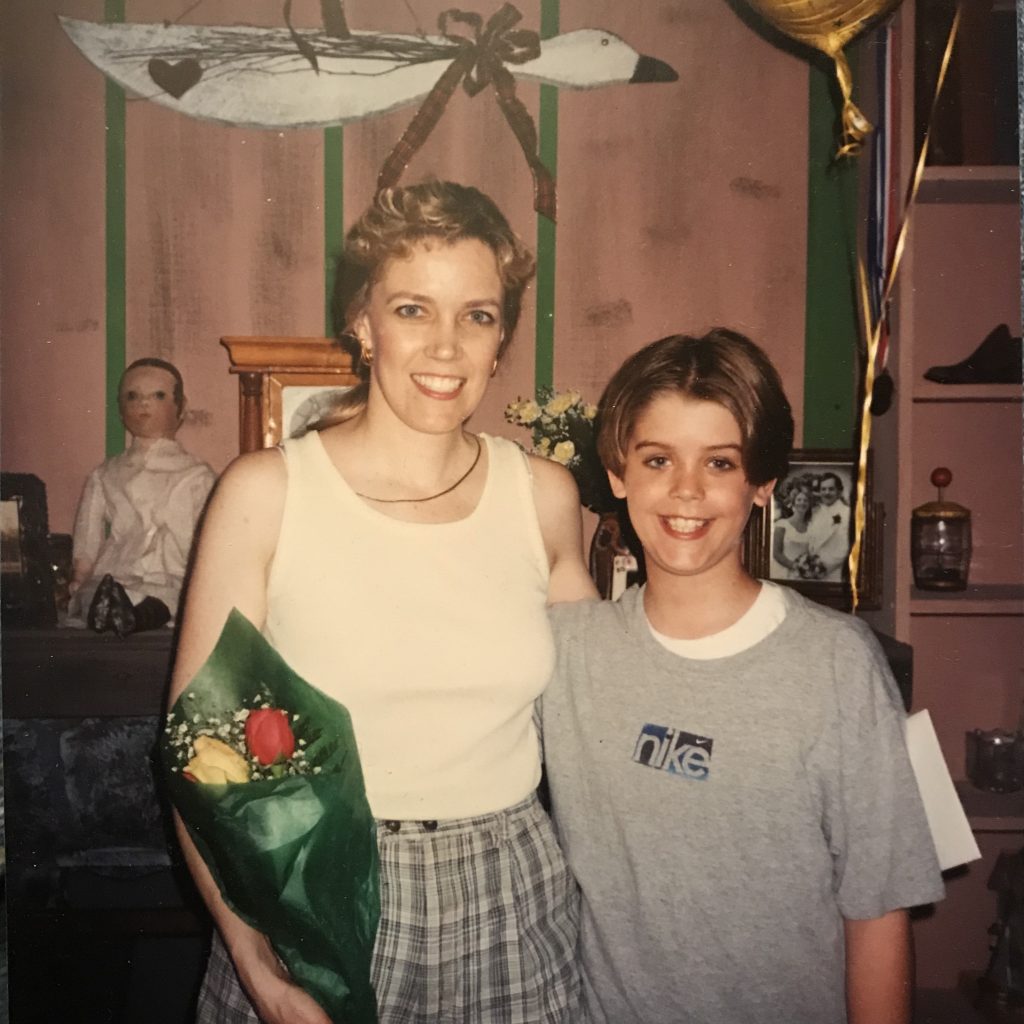 As several volunteers have alluded to, Teresa reflects on the most challenging time throughout her many years volunteering for GCT: 2018's financial and volunteer crisis.
"Our darkest time came in the spring of 2018 when we had a severe shortage of active volunteers and our finances were critically low. We nearly dissolved the organization. Instead, we rallied new volunteers and board members that summer, took new directions with more aggressive fundraising and grant-writing, made some smart choices in presenting shows that sold a lot of tickets, and are now back on track to continue with shows for adults and families, even in these challenging times. Now in our 69th season, our Greasepaint Players (family theatre troupe) will present Disney's 'Beauty and the Beast Jr.' December 4th and 5th at Greensburg Garden & Civic Center, both in-person for limited audiences at three shows, and as a livestream so the whole family can watch from home, if they prefer."
And finally, Teresa hopes that any interested community members decide to make a commitment to the Greensburg Civic Theatre.
"Community theatre is meant to be a fun way for people to express their creative talents, whether it be acting or working behind the scenes on production committees like costumes, set construction and painting, lighting, sound, props, ticket sales, or marketing and fundraising. The joy folks get from seeing live theatre is total validation for the suprising amount of work that goes into each show with weeks and sometimes months of preparation. It's rewarding, a great way to meet people, and supports the performing arts in your community."
***
If you or someone you know is interested in auditioning for a show with the Greensburg Civic Theatre, or dedicating time as a volunteer, visit gctheatre.org, call them at 724-414-1220, or send the organization an email at info@gctheatre.org.