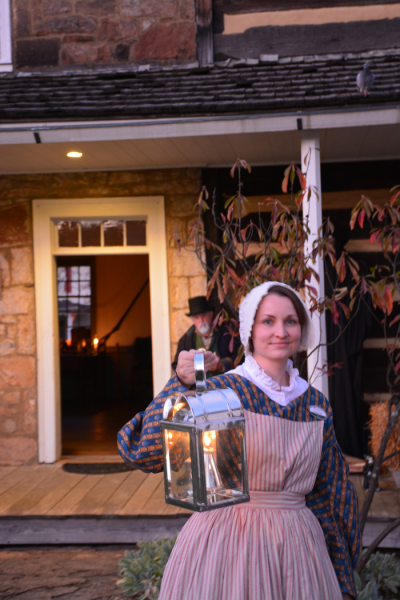 New Volunteer Meet & Greet Sessions
Are you passionate about history? Do you enjoy learning new information? Do you enjoy talking with and teaching people of all ages? Are you looking for ways to get involved in your community and meet new people?… If you answered yes to any of these questions, please consider coming to our "new volunteer meet and greet sessions" on Thursday, September 29 from 2 – 3:30 pm and 6 – 7:30 pm. Prospective volunteers need only attend one session. If you are interested in sharing your time and talents with Ligonier Valley Historical Society please contact Emily Barth, Head Museum Interpreter, at ebarth@compassinn.org or 724-238-4983 for a volunteer application and to register for one of the sessions on Thursday, September 29.
What does a docent do exactly? You will lead tours through our authentic historic stagecoach inn, Compass Inn Museum, and its outbuildings. Dressed in period clothing, you will share stories about traveling during the stagecoach era and of the Armor family who lived and worked in the inn. Volunteers will receive special on-site training with topics including the life of the Armors, the stagecoach industry, group management skills, working with diverse age groups, and public speaking. Volunteers must obtain appropriate clearances for working with children.
Ligonier Valley Historical Society will be hosting our annual pumpkin carving contest in conjunction with Compass Inn Museum's Halloween event, Hair-Raising History: Frightfully True Stories from the Ligonier Valley, on October 28-30, 2022. We will officially kick off our 2022 Candlelight Season (where visitors experience the Inn draped in warm candlelight and decorated for the season) on Saturday, November 5, 2022, with Bonfire/Guy Fawkes Night from 4 – 8 pm and continue the season with Candlelight Tours taking place on Saturdays and select Sundays through the months of November and December. During Candlelight tour season, docents give partial tours of one or two rooms of the Inn as visitors move throughout the museum. Volunteer docents are individuals ages 16 years and older who are looking to learn something new, meet interesting people, or simply have fun! We provide all training. New volunteer training dates are to be determined.